2022.11.08

Flying Tiger
Manufacturers and processors are utilizing Industry 4.0 capabilities within their facilities; plastic auxiliary equipment plays a crucial role in its realization. In line with this trend, manufacturing facilities that used to stand alone are gradually integrated into automated, smart systems. Therefore, when considering your plant, it is important to decide the best staff, products, and machinery you will use to utilize automation in your workflow.
What Is Smart Manufacturing?
The vision of digital transformation and smart manufacturing has moved far beyond its early status as a technological buzzword. Nowadays, industries are evolving as automation's future becomes more prevalent in a series of production processes. Emerging technologies are seen in the applications of data-collecting from the very beginning stages of product production, predictive maintenance, and system integration, all the way to the final shipping stage. It is under this context that the vision of Industry 4.0 becomes realizable: enabling the global networks of machines in a smart factory setting to autonomously exchange information and control each other.
Smart manufacturing is the process of using intelligent Industry 4.0 automated technology within production lines. The concept also symbolizes the transformation of traditional manufacturing operations by implementing smart technologies.
Specifically, the technologies in the Fourth Industrial revolution use AI, cloud computing, and connected robots to create a fully automated, intelligent production workflow. Smart manufacturing, on the other hand, utilizes interconnected systems that can self-diagnose issues and adjust processes accordingly. These smart machines can optimize production, reduce maintenance, eliminate human error, and improve the quality of products. Smart manufacturing helps production line streamline their processors to achieve top efficiency and opens the door to new business potential.
Three Major Elements of Industry 4.0
Smart Machines
Smart machines can act autonomously by independently performing complex tasks. They will employ sensors and IT processes that allow them to interact with applications and employees. Smart machines can be used within injection molding industries to streamline workflow and eliminate unnecessary human tasks. Smart machines also can carry out automatic maintenance when required and can learn to optimize operations through intelligent AI.
Smart Production
Smart production is the concept of using smart processes to automate production lines, including intelligent 3D printing, automated product creation, and more. With the rapid development of technology, smart production is becoming a reality. This will allow manufacturing companies to use an entirely technical workforce in their production lines to create products.
Smart Service
Smart service is already top-rated in the 21st century. Automated service points have become essential with the increase of social distancing and supply and demand. Like a retail service point, manufacturers can use smart service screens in their production plants. These smart service points can be used to monitor production lines, request the production of specific goods, and more.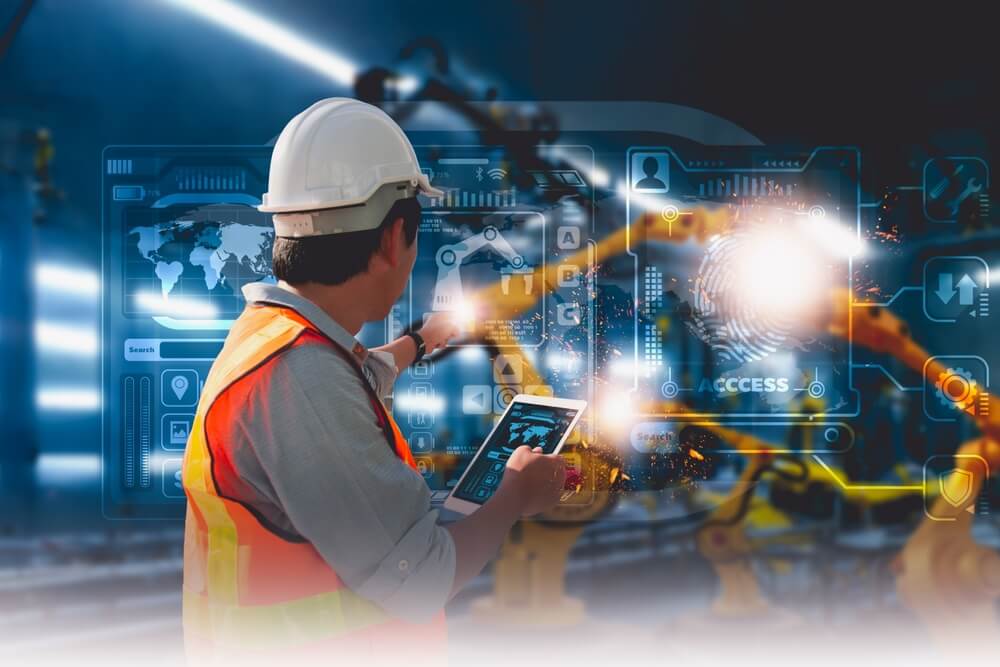 Unpacking Automation in Plastics Auxiliary Equipment
Now we know how manufacturers can use innovative technology globally, let's look at its application within the plastic industry.
Supply and Demand
With the increase in supply and demand, production lines that rely on human methodologies can struggle to keep up. By using smart automation in plastic production lines, machines can automatically adjust their throughput to match the increasing demand for products without additional staffing costs.
Asset Utilization
Implementing smart technologies can ensure that all assets are being used to their highest potential. For example, smart machines utilize intelligent AI to conduct smart learning throughout production, meaning they can learn how to optimize performance and adjust according to the findings. Thus, automatically optimizing the use of all assets within the processes.
Human Labor
Human labor can be a costly and complex resource in the manufacturing industry. In addition, looking after the health and safety of staff in production lines can be challenging due to the harsh environments and chemicals present. By implementing smart machines and technologies, human labor in the production lines can be eliminated, and staff can be employed in other departments with a lower health and safety risk.
Inventories
Plastic production is a booming industry that requires a well-kept inventory of products. Smart technologies can be used to track product inventories, to stay on top of the stock supply. Using automated services and production, stock levels can be assessed digitally, and automatic production can replenish inventory stock as needed. This reduces the risk of error, low inventory stock, and cuts administration costs.
Quality Management​​
Quality management is essential in the plastic industry to ensure each product functions to the highest quality. With the many variables in plastic molding, it is essential to recognize product defects as soon as possible and resolve the issue. Failing to do so can result in wasted materials, additional costs, and extra staffing costs to cover production. Using smart machines, manufacturers can stay on top of quality management because of the intelligent learning functions. Smart machines will instantly recognize any product defects and resolve the issue, keeping the quality and costs low.
What is the Central Material Conveying System?
Plastic facilities managers must weigh their production needs and goals before investing in any plastic auxiliary equipment. Here at Flying Tiger, we offer a smart solution to plastic production lines: the Central Material Conveying System which includes a central controller with various compatible smart machinery.
By utilizing a smart service point with a human-machine interface, staff can oversee plastic production and assess manufacturing processes with this intelligent technology. Pair the Central Controller with any machinery from the Central Material Conveying System to optimize your production and eliminate human error.
The central controllers are equipped with functions that allow users to:
Perform functions such as piping purge, auto-cleaning filters, and auto-interchange motors, and prevent wrong material selection and lack of compressor alarm.
Oversee molding data such as the material's drying temperature, drying time, and mold temperature can be displayed on the monitor screen.
Automated Plastic Auxiliary Equipment Within Reach
Start automation and save time with Flying Tiger's solutions! Our product designs combine smart technologies with modular capabilities, bringing the future of technology in an accessible and straightforward way. Our products are designed to eliminate downtime and maintenance costs and meet the ever-increasing supply and demand of products. Elevate your production lines by optimizing machines and increasing productivity using Flying Tiger's intelligent solutions. Click here to learn more!
Article Update:
2022.11.22
---
Back