Gravimetric Dosing Blender
Flying Tiger gravimetric dosing blender (gravimetric blender) embodies innovations that increase the efficiency of production, feature improved design, high-performance components, and twin cone gates designed for perfectly dosing weight control.
Not only can Flying Tiger gravimetric blender have a precisely dosing amount but also equipped with a unique design batch blender to mix up to 8 materials.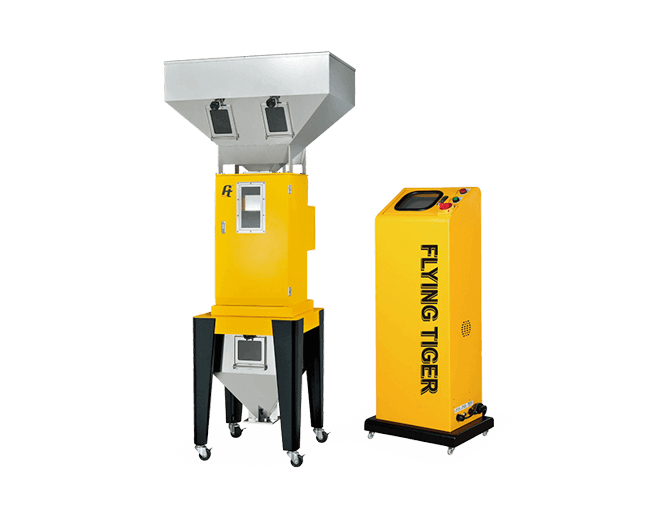 Multiple cone gate design for fast and accurate dosing design.Dosing stating can be expended up-to 8 stations.
PLC control for easy programing for individual customer. Gravimetric control increases dosing accuracy to 99.9%.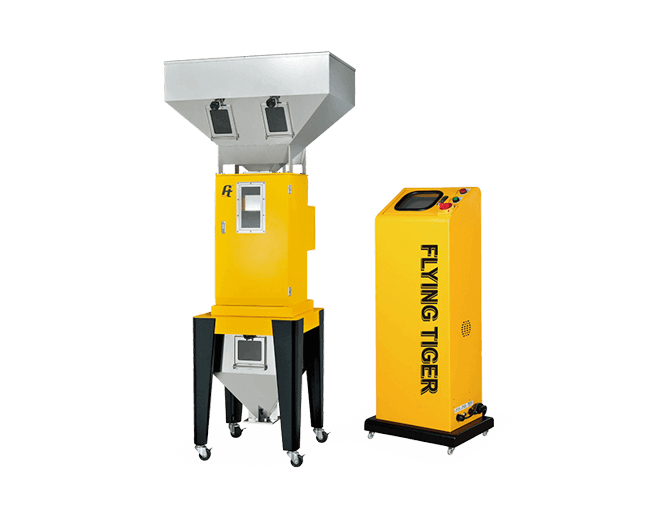 FEATURE
Simultaneous coloring automatically for saving working hours and storage space.
The twin cones gates are designed to control the batch dosing weight of raw material exactly.
Vertical mixer design without residual material for material changeover easily.
Equipped with colorful human-machine screen and PLC controller, also it can built-in material conveying system for monitoring operational status easily.
All the dosing stations are equipped with material shortage alarm and they will stop to wait material supply automatically if any dosing station is lack of material.
Specifications
Model

KGDB-100

KGDB-250

2G

3G

4G

2G

3G

4G

No. of station

2

3

4

2

3

4

Capacity

KG/HR

120

110

100

290

270

250

Weight bin

KG

3

5

Dosingmethod

Two cone gates

2

3

4

2

3

4

Control type

7.0" Colorful human-machine & PLC control

Mixer

KW

0.4

Buffer tank

LITER

15

25

Compressed air

MM

ø5*8 MM, at 5 KG/CM²

LPM

60

Total load

KW

0.4

Dimension
(W*D*H)

Machine

CM

68*68*155

68*68*168

Controller

46*34*113

46*34*113

Approx.
weight

Machine

CM

65

80

Controller

40

40

Options

1.Central material receiver 2.Central loader 3.Auto-cleaning vortex cyclone
4.Suction box with piping-purge device 5. Central material conveying system

Remarks

1.These specifications are for reference only. We reserve the right to change specifications without prior notice
Model

KGDB-600

KGDB-1000

2G

3G

4G

2G

3G

4G

No. of station

2

3

4

2

3

4

Capacity

KG/HR

800

700

600

1500

1200

1100

Weight bin

KG

10

20

Dosingmethod

Two cone gates

2

3

4

2

3

4

Control type

7.0" Colorful human-machine & PLC control

Mixer

KW

0.4

Buffer tank

LITER

50

100

Compressed air

MM

ø5*8 MM, at 5 KG/CM²

LPM

60

Total load

KW

0.4

Dimension
(W*D*H)

Machine

CM

70*70*197

116*116*270

Controller

46*34*113

46*34*113

Approx.
weight

Machine

CM

95

125

Controller

40

40

Options

1.Central material receiver 2.Central loader 3.Auto-cleaning vortex cyclone
4.Suction box with piping-purge device 5. Central material conveying system

Remarks

1.These specifications are for reference only. We reserve the right to change specifications without prior notice
Model

KGDB-2000

2G

3G

4G

No. of station

2

3

4

Capacity

KG/HR

2600

2200

2100

Weight bin

KG

40

Dosingmethod

Two cone gates

2

3

4

Control type

7.0" Colorful human-machine & PLC control

Mixer

KW

0.4

Buffer tank

LITER

200

Compressed air

MM

ø5*8 MM, at 5 KG/CM²

LPM

60

Total load

KW

0.4

Dimension
(W*D*H)

Machine

CM

116*116*288

Controller

46*34*113

Approx.
weight

Machine

CM

160

Controller

40

Options

1.Central material receiver 2.Central loader 3.Auto-cleaning vortex cyclone
4.Suction box with piping-purge device 5. Central material conveying system

Remarks

1.These specifications are for reference only. We reserve the right to change specifications without prior notice