Bag Machine with Bale Press, Pallet Stacker and Infeed Pallet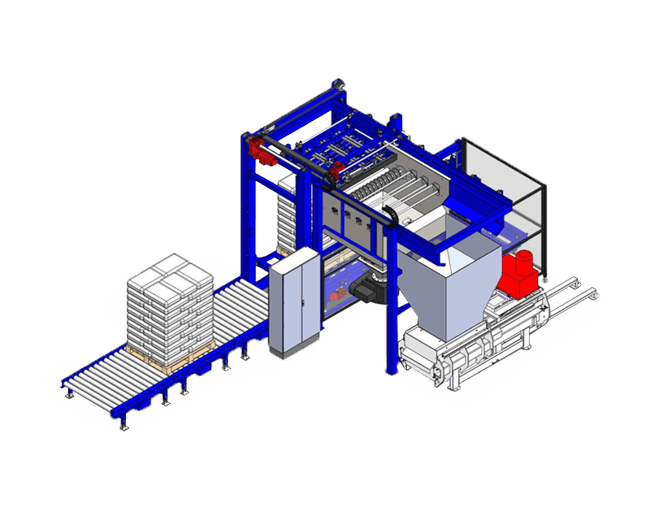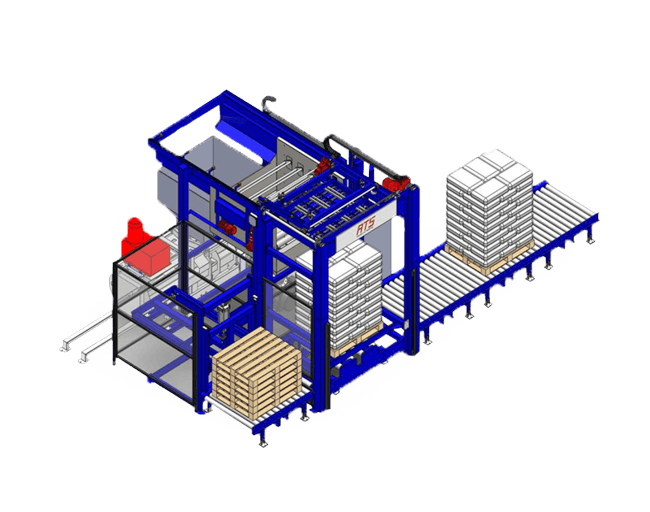 FEATURE
Expandability: possibility to
- Add a bag compacter
- Add a pallet stacker
- Implement in complex control system with full process control
Flexibility (additional options, executions can be discussed)
Robust execution
Separated steady movements
- Electrical lift executes vertical movement
- Shuttle executes horizontal movements
DESCRIPTION
With the fully automatic bag emptying machine, granulate bags of 25 kg can be opened and emptied into a receiving bin.
The capacity of the machine is between 10 and 15 tons of granules per hour.
Emptying is better than 99.98%!
It is also possible to transport or drop the empty bags (in)to a bag compactor or baler.
The granulate in the receiving bin is transported from the bin by means of a granulate pump into the pneumatic transport system.
This system provides a durable and reliable transport to storage silos.
Alternative designs and extra options
XL unit: Suitable for dumping granulate into containers, big bags, octabins or truckloads;
Automated cleaning: This machine can clean itself after a batch, so it is immediately ready for a different product
Automatic pallet transport (in and out)
Integrated palletstacker for stacking the empty pallets
Integrated bag compactor or baler for the empty bags
Specification of Bag Emptying Machine
Feeding opening L x W: 1030x950 mm
Channel W x H: 950 x 700 mm
Dimensions L x W x H: 3550 x 1410 x 1940 mm; without hopper
Max. feeding volume: 0,68 m³
Volume throughout in idle speed: 72 m³/h without binding time
Pressing force: 300 KN; specific pressing force: 45 N/cm²
Cycle time: 34 s
Drive power uptake: 11 KW; fuse: 35 A; delay melting fuse
Power connection: 460 V, 60 Hz
Channel outlet fully automatic control
Binding system: manual, 4-fold; binding with polyester strap reels
Low oil level switch with over temperature stop function
Equipped with Operating hour meter and Bale length meter
Starting system by light barrier
Hydraulic central drive
Central control system with function and failure display by Siemens PLC control
Bale length pre-selection via text display
Revision door (670x670mm) with Plexiglass
Total Load: 11 KW